My experience with My Adopted Soldier
About Me
My name is Aoife Ní Ghormáin. I am currently a sixteen year old Transition Year student in Coláiste Muire in Ennis, Co. Clare. I have been in Ennis my whole life, and I live roughly thirty minutes away from my adopted soldier, Michael Cooney's birth place. I have always loved History and I'm so happy to be a part of this project. I first heard about this project when a girl in my school took part in it last year. I thought it sounded so interesting and really hoped I'd get the opportunity to go this year. In May, a history teacher in my school informed my year that the project was running again. I sent an email to her explaining why I would like to take part. I was delighted when I heard I was chosen.
Beginning my Research
In June, I met the other three girls who were also doing the project. We met in Glasnevin Cemetery in Dublin. This was the official launch of the project. Here I met Gerry Moore who outlined what we were going to be doing in Belgium and he also explained the research that had to be done. I received a list of soldiers from my area from Gerry and I had to choose one to do my research on. We then had two months to ourselves to choose and research our soldiers.
The first thing I did was try to get some background information on each soldier I had been given. I was initially interested in a soldier called John Reilly because he was from my hometown of Ennis. However when I looked him up I found little to no records on him so decided to see about a different soldier. There were two soldiers on my list who served in the Australian Infantry. Gerry had told me in Glasnevin that these would be good soldiers to research as the Australian Army keep very good records, whereas many of the British Army's records were destroyed in World War Two.
I decided to research Michael Cooney from Killuran, Broadford on the National Archives of Australia. I was pleasantly surprised to find many documents and information on him. There were all sorts of documents about the Corps he was in, witness accounts of his deaths and his will which was left everything to his sister. I searched his name and hometown on the 1901 census and found records of him and his family. I decided to go with Michael as there seemed to be a lot information on him. I started saving all the documents about him and his family so that I could start piecing together his life. I visited the local World War One Memorial in Ennis to find Michael's name.
Highlights of my research
I made a huge discovery when I found that a journalist and relative of Michael's, a journalist called Terence Killeen, had written an article about Michael in the Irish Times in 2008, entitled 'An Irishman's Diary.' This held so much information on Michael and his life, and was incredibly helpful to me during the research process. I emailed Terence and he replied with a picture of Michael and further information to help me. He referred me to a book, 'Clare War Dead' which also had useful information on Michael in it. He also told me about a living relative of Michael, his nephew Paddy, whom I also got into contact with. Paddy sent me more pictures of Michael, his old school, a medal received by his family following his death, and further information on Michael and his family. I arranged to meet Paddy in Michael's old school to get a photo with him and to visit Michael's home place. We also went to the graveyard where Michael's parents are buried. This was a wonderful experience and really brought my research into focus.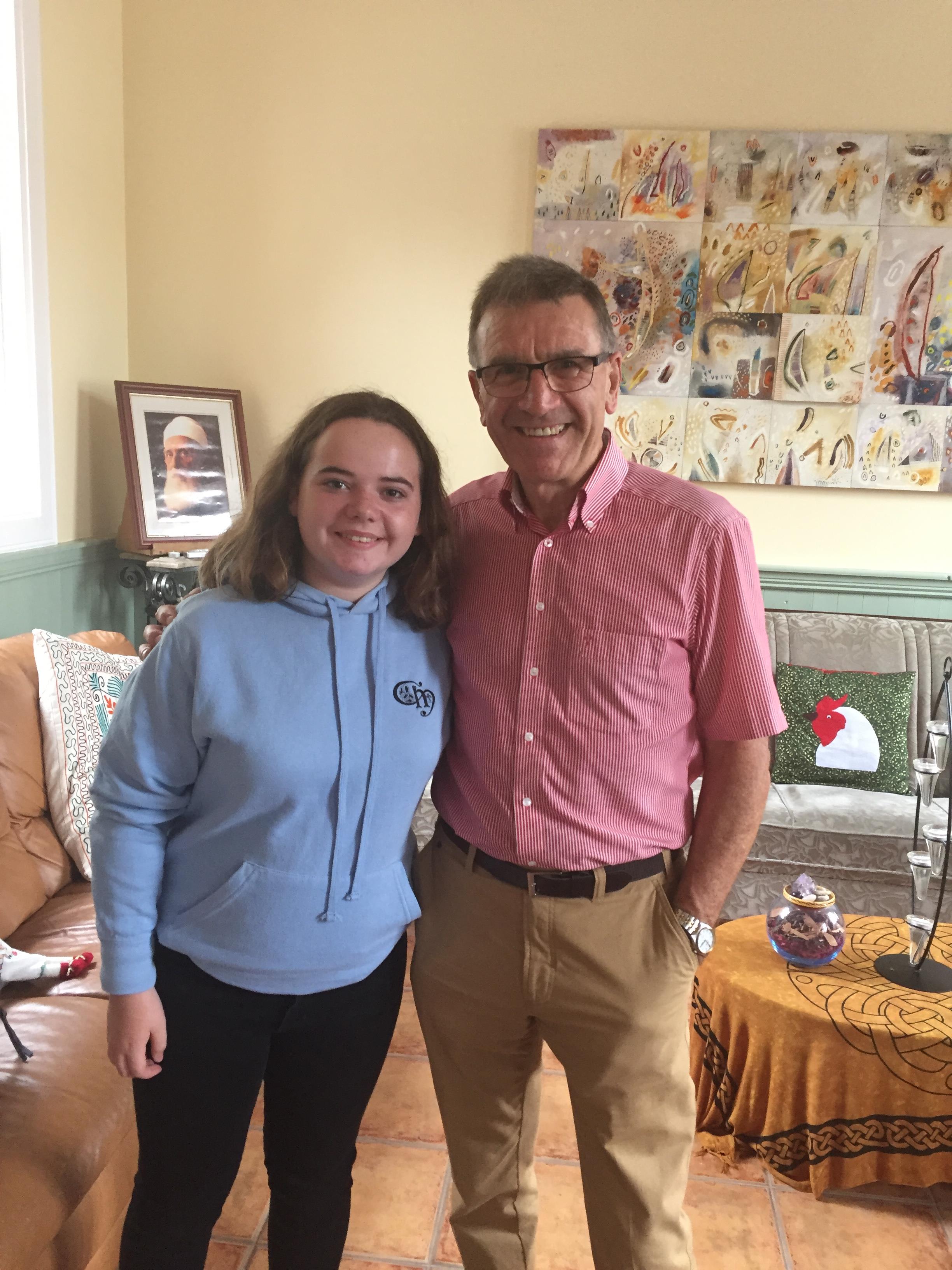 Another notable moment of my research was when I got in touch with my local newspaper 'The Clare Champion'. I wrote to them outlining the project and my participation in it. An article about me and the project was included in the newspaper. After this article was released, another local newspaper 'The Clare People' and my local radio station 'Clare FM' expressed interest in covering the project as well, so I might be interviewed by them in the future.
The Trip to Belgium
The trip to Belgium was an incredible experience for me. Seeing Michael's grave after learning so much about his life was something I will always remember. The moment when I was at his grave was very moving. I had visited his hometown earlier that week and seen where he grew up, the very room he spent his schooldays in and the house him and his family lived in. It was sad but I was so glad I got to see it, as I felt close with Michael after all the research I did. I was delighted to place some earth I'd brought from Killuran at his graveside. Another highlight of the trip was the Memorial Ceremony at the Menin Gate in Ypres. Myself and the other girls laid a wreath for the Irish soldiers who died in the war. I was honoured to do this, it was a very special moment. We were among soldiers from around the world and also relatives of men who died in World Wars One and Two. I was more than happy to be the one honouring the Irish soldiers that evening. This and the entire trip was a wonderful and moving experience that I will take with me throughout my life, and I will never forget about it or Michael. I am so happy I got to be part of My Adopted Soldier this year.