by Sam ONeill
Nov 18, 2020
John O'Neill was born in 1891. He spent the majority of his life working in law enforcement. He served as a mole for Michael Collins and as a bodyguard for Éamon de Valera.
Family background & Early life
John was born on Thursday, 12th March 1891 in the townland of Mullinakill in the parish of Jerpoint West, Co. Kilkenny. His mother was Catherine O'Connor and his father was William O'Neill. Both parents died within a day of each other in 1913. John's father was a farmer and so John's family grew up on the farm. The farm was quite large with 8 buildings or outhouses and the farmhouse had 5 rooms. John worked as a farm laborer on his fathers farm growing up until 1913. John was the youngest in his family. He had two brothers Patrick and William and a sister Kate. His brother William emigrated to America sometime after 1911. The sixth member of the O'Neill family was Catherine Shea who was an old woman who lived down the road and was taken in by the family. She was registered as a 'domestic servant invalid' on the census. It is unknown exactly where John was schooled but it is likely that he went to the old schoolhouse in Mullinakill. In 1912 he travelled to Dublin, rejecting a manager job at Kilmeaden Creamery, to stay with his sister Kate, who was in hospital suffering from rheumatoid arthritis. John was a Roman Catholic, like the rest of his family.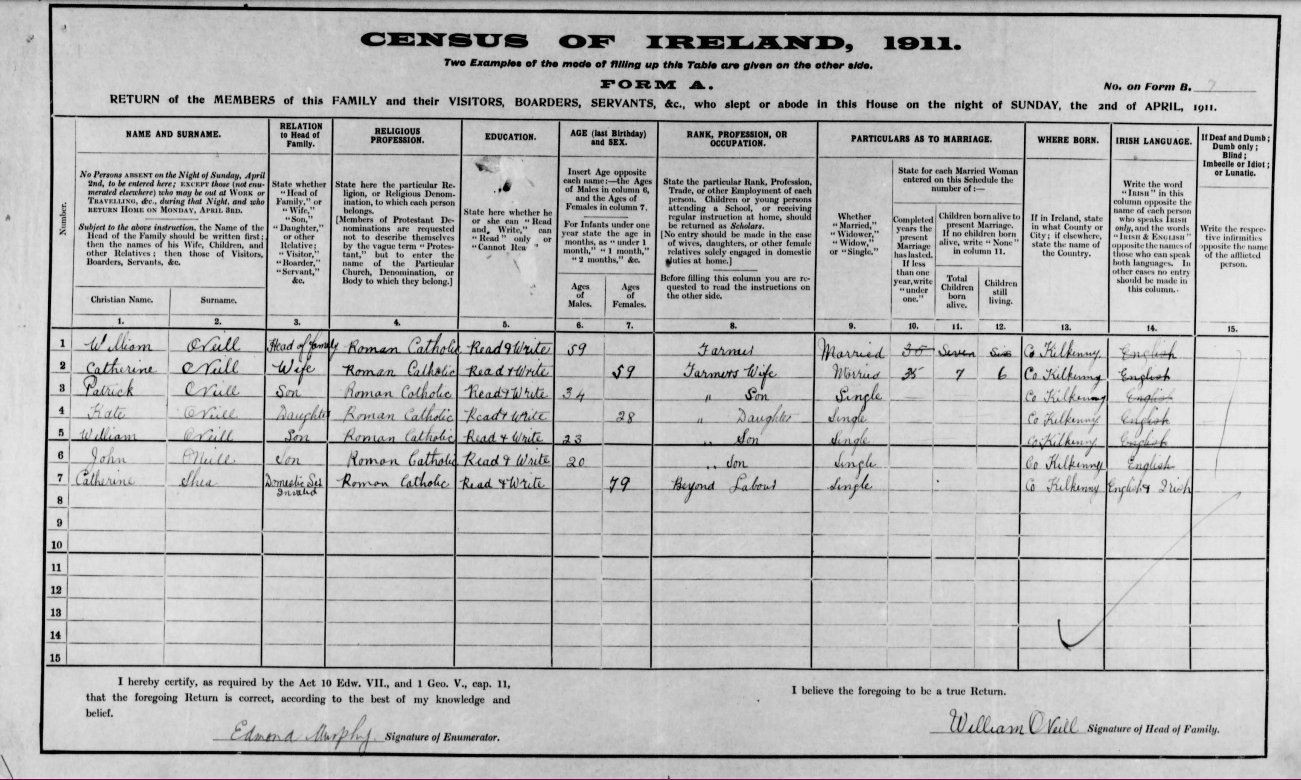 Adult life and Work in DMP
John joined the Dublin Metropolitan Police on the 24th January 1913. He was issued the warrant number 11177 and attached to the 'E' division, which patrolled South County Dublin. The DMP was an unarmed urban police force. John was attached to numerous other divisions throughout his career in the DMP: the B division in 1922, the A division in 1923, the F division in 1924 and the C division in 1926. It is believed in Mullinakill that John worked as a mole for Michael Collins' intelligence agency during the Irish War for Independence of 1919-1921, supplying them with information about the work of the Dublin Metropolitan Police. However this has not yet been proven. After the DMP were dissolved in 1925, John joined the newly formed Garda Síochána. He worked his way up through the ranks until he became Chief Superintendent of the Dublin Gardaí. As Chief Superintendent of the Dublin Gardaí, he served as a bodyguard for Éamon de Valera throughout is many spells as Taoiseach. He retired from the Gardaí on 11th March 1954, after 41 years working in Law Enforcement.
Family Life
John married Anastasia Tobin in 1925. They bought a house on Wilfield Road in 1925, which is still lived in today by his daughter-in-law. John and Anastasia had a son named Liam in 1933. In 1976 he died of a heart attack, leaving the house in his son Liam's name. He was 85 years old when he died.