Family background & Early life
Michael Cooney was born in 1894 in Killuran, Broadford, Co. Clare. He was baptized on the 12th of June 1894. His sponsors were Edmond Cooney and Mary Ryan. His parents were Patrick and Katie Cooney. His father was a farmer. There were ten children in his family, five girls (Bridget, Catherine, Margaret, Mary and Ellena) and five boys, (Michael, Patrick, John, James and Thomas). I have included photos of Michael's family records which hold information on his parents and each of his siblings. He was the second eldest ( the eldest boy). See below the birth records of the Cooney family: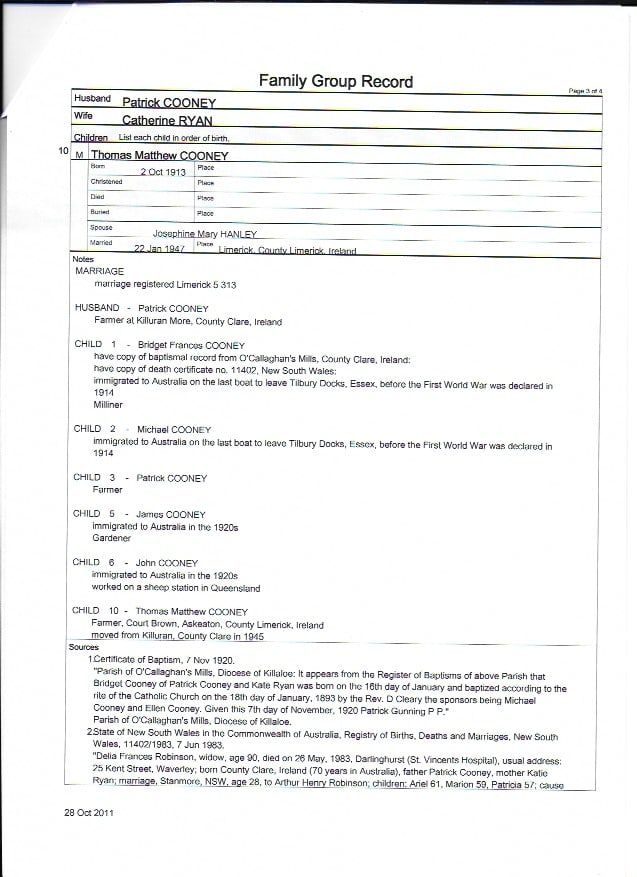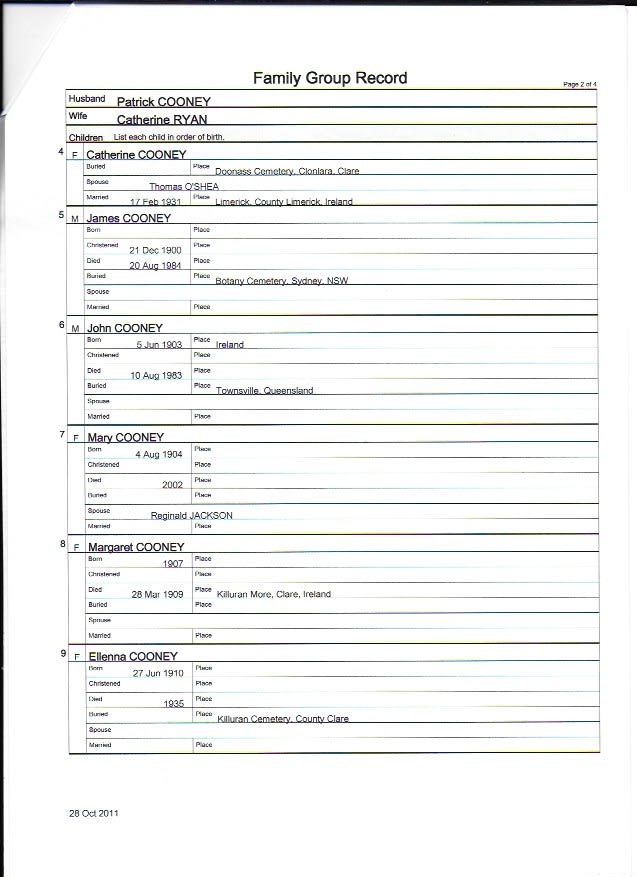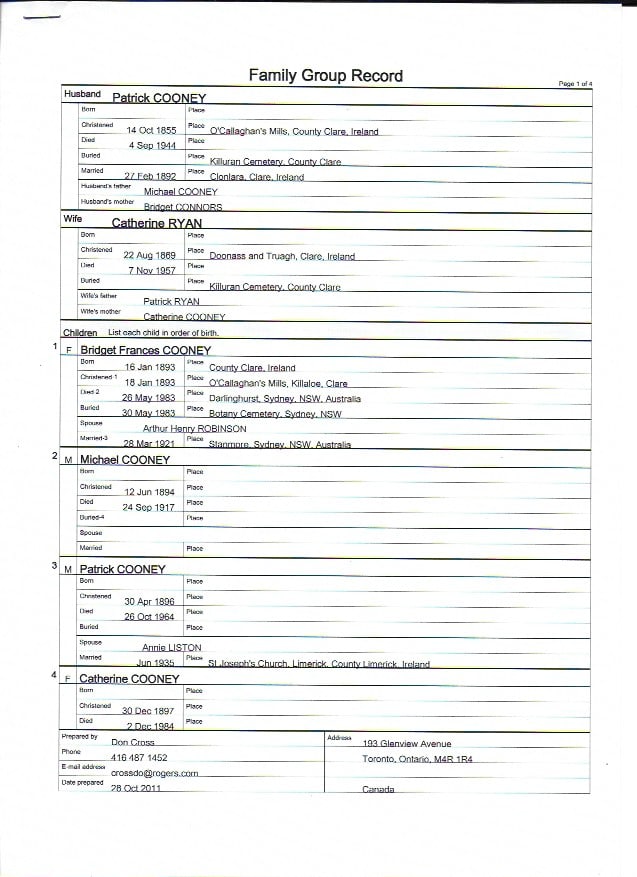 Michael's grandfather, after whom he was named, farmed the land with others, as "Commonage" in 1855. However by 1894, his father Patrick was farming the land in his own right. Michael's family lived in a farmstead typical of the day. The 1901 Census shows the house had stone walls, a thatched roof, 3 windows in the front and 5 rooms. The remains of the house are still standing today. He went to a one-room school in Killuran N.S.,a picture of which I have included below. It was built in 1895 and was in use up until the 1970s. It has since been refurbished, and I got to go inside and see the room where Michael used to spend his school days as a boy.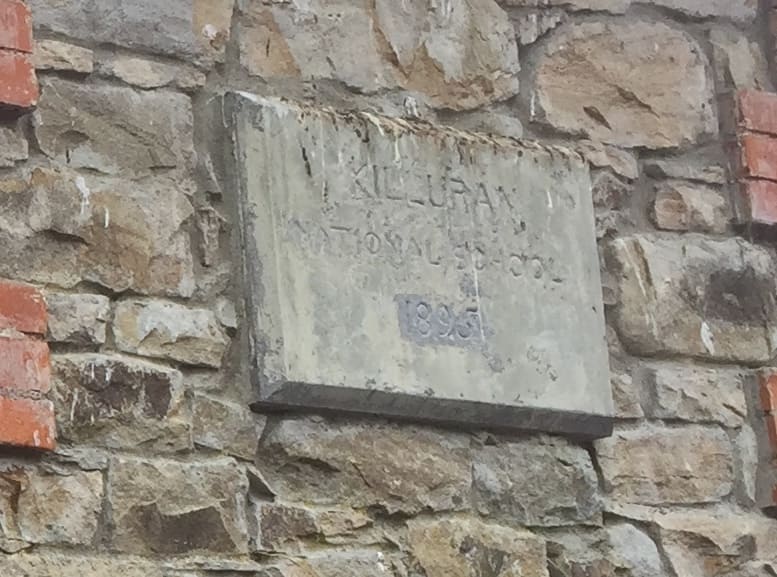 Adult Life
Around the year 1914, Michael emigrated to Australia. His family had a connection with Australia, with six of his aunts, (Honora Newman, Mary, Anne (Sister Mary Lawrence), Margaret, Bridget and Catherine Hurney) on his father's side and two of his uncles (Thomas and Timothy Ryan) on his mother's side, having emigrated there previously. He went with his sister Bridget, who preferred to be known as Delia, while two of his brothers, John and James, followed on in the 1920s. He worked as a labourer in Limebon, Boggabilla, New South Wales. The map shows Boggabilla in New South Wales, Australia, close to the New South Wales Border. Here is a photo of Michael in Australia, along with his sister Delia and his uncle Tim.
Military Experience
Michael enlisted in the army on the 1st of June 1916, the location of exactly where he joined is unreadable. He joined as a private in the Australian Machine Gun Corps, which was formed for service at the beginning of 1916. Twenty companies went to Europe, Michael being in the First Machine Gun Company. His regiment embarked for Europe on October 28th, 1916. Here is a photograph of the 1st Machine Gun Company taken in 1916, and a picture of Michael in uniform.

Battle of Polygon Wood
Michael's Corp was sent to Polygon Wood to prepare for an imminent offensive. The Battle of Polygon Wood, masterminded by the British General Herbert Plumer, took place during the second phase of the Third Battle of Ypres. It was fought near Ypres from 26th. September to 3rd. October 1917. A lot of the woodland was destroyed by the huge quantity of shellfire from both sides from 16th July onwards and the area changed hands several times. The Allies were eventually successful in this battle, despite several counterattacks from the Germans. 5,700 Australian soldiers lost their lives. It was in the lead up to this battle, on September 20th, that Michael was wounded. He was wounded by a shell in the shoulder and was brought to hospital the next day where he died of his wounds on 24th September, 1917. He was 23 years old.
Witness Accounts of His Death
"I knew Cooney quite well. He went by the name of "Mick". He was a finely built fellow, came from Ireland and was about 20 years old. I was Company Runner on September 24th during the Ypres attack and during the afternoon had to go past a D/S. On a stretcher outside D/S I saw Cooney lying. I went up to him and asked him how he was and he said "pretty bad". He had a big wound on his right shoulder from a piece of shell and a second one in stomach. I tried to get him carried to a collecting station, where he might have got better attention, but they were too busy and all had to wait their turn. I got two blankets and put one over him and one under his head. I then had to leave him but later word came to HQ (I did not see official list, but heard of it) that Cooney was dead." - Pte. A. Mellor
"He was wounded by a shell whilst we were at Polygon Wood. He was taken out to the C.C.S. He would be buried close by. I knew him in the Company. He came from New South Wales." - Gnr.Richard Percy Whalan.
"Ypres. Wounded by shell in shoulder taken to D/S about 21st Sept. He was my cobber (Companion or friend). He was carried past me and I recognised him but he was not conscious at the time." - Cpl. Alfred Marshall.
Meeting Michael's Nephew, Paddy
On the 2nd of August I travelled to Killuran, Broadford where Michael was from. I visited the cemetery in which his parents and sister are buried, the old primary school he attended, and what is thought to be his family's house. At Killuran N.S. I met Michael's nephew, Paddy Cooney. Paddy's father was Michael's youngest brother, Thomas (Tom). Tom was a few months old when Michael emigrated to Australia. Paddy told me Tom remembered his mother, Katie, receiving the news that Michael had died and he remembered her crying. Tom died in 2013 at the age of 101. It was a wonderful experience to meet Paddy, and to get an even closer look into Michael's life and family by seeing where he grew up.