Robert Maurice Fitzgerald
"They shall grow not old, as we that are left grow old, age shall not weary them, nor the years condemn, at the going down of the sun and in the morning, we will remember them" - From "For the Fallen" by Laurence Binyon. Stands in Mayo Peace Park, Castlebar.
Family history & Early life
Robert Maurice Fitzgerald was born on the 7th of March 1892. Robert Maurice (known as Maurice) was the youngest son of Charles Ball and Mary Ellen Fitzgerald. They had five children, four sons and one daughter; Charles, Desmond, Gerald, Robert Maurice and Una Geraldine.
His mother, Mary Ellen Fitzgerald from Iceland in Ballina died on the 12th of February 1894 aged 24, pressumably after the birth of her only daughter, Una Geraldine Fitzgerald who was born on the 6th of February 1894. Mary Ellen was a descendant of the Little family who owned the Moy Fishery company in Ballina. Pictured below is Mary Ellen Fitzgerald.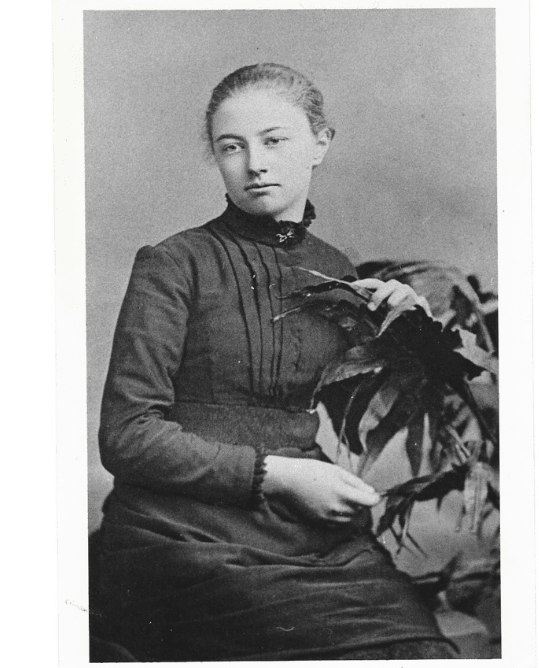 His father, Charles Ball Fitzgerald from Nenagh in Tipperary was a banker. He worked in the provincial bank on Knox St. Ballina. The street has since been renamed Pearse St. and the bank, which was used up until 1977, has since been refurbished and is now host to the Jackie Clarke Collection. Charles Ball's parents, Charles Clarke Fitzgerald and Eliza Jane Ball-Hackett were from Templemore in Tipperary. They had two sons, Charles Ball and Robert Ball. Robert Ball never married and died in his 20's. Robert Ball and his parents are buried in Templemore. Charles Ball Fitzgerald died on the 13th of September 1922 and is buried in the grounds of the old 15th century church in Kilurane in the parish of Nenagh. Buried alongside side him is his daughter Una Geraldine who died in 1965 aged 72 and his grandson Maurice Fitzgerald, son of Charles and Eva Fitzgerald. His fallen son, Robert Maurice is mentioned on his gravestone.
Pictured below is Knox St. Ballina. The picture underneath is Charles Ball Fitzgerald with two of his sons. Maurice is pictured on the right.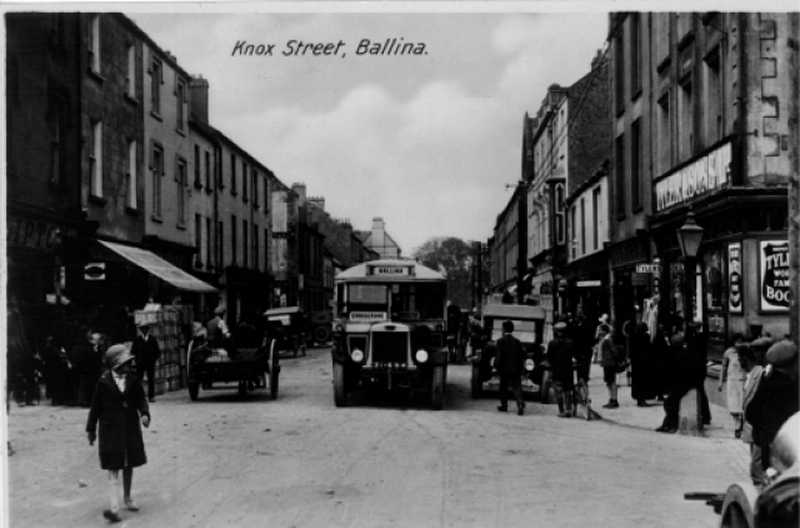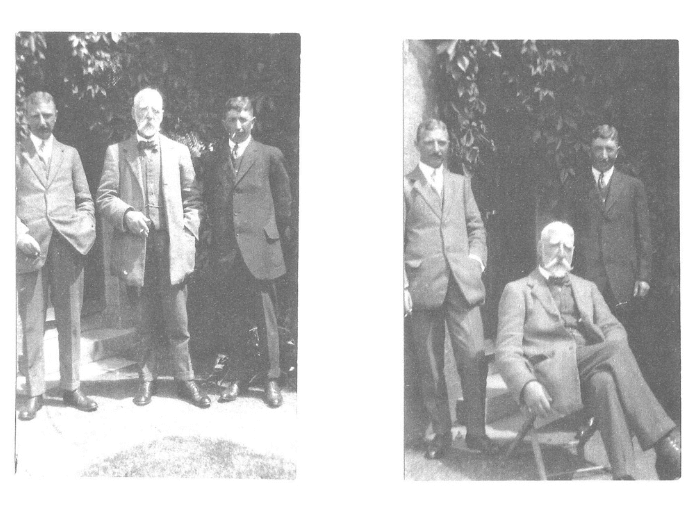 Charles, the oldest son was in the Connaught Rangers and went on to serve in France during the First World War where he was injured. He married Eva Louisa Oglander Webb.He went on to live and work for the Royal Bank of Canada in the Caribbean and South America until his death in the late 1940's just after buying a house in Dromineer. He had two sons; Henry Maurice Marshall Fitzgerald who was born on the 25th of January 1922 in Half Way Tree, Saint Andrew, Jamaica and Charles Desmond Fitzgerald who was born in Barbados in the West Indes. Charles Desmond Fitzgerald went on to serve in the Royal West Indian Navy Reserve in the Second World War. He went on to marry Margaret Elizabeth Rhodes Fitzgerald. They had a son Charles Fitzgerald who I was lucky enough to get in contact with and who provided me with vast amounts of information.
Desmond, who was the second eldest, worked as a clerk in Canada.
Gerald, was granted land by the British in Weyburn, Saskatchewan alongside his brother Maurice. They set off in the early 1900's to farm land as pioneers. When Gerald grew old, the farm of land was sold.
Una Geraldine, the youngest of the five, she went to London where she drove a bus during the war.
Pictured below is the Fitzgerald Family. From left to right; Desmond, Una, Charles, Maurice and Gerald.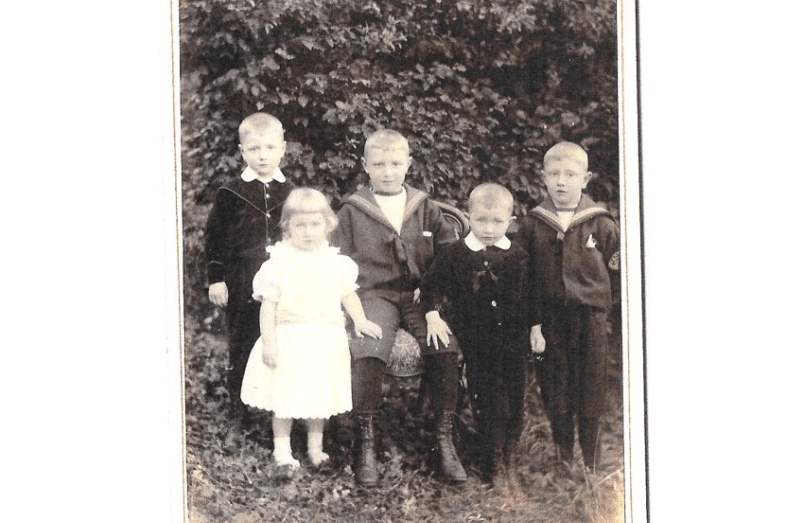 The Fitzgerald Family lived in Iceland, Ballina, where Mary Ellen originates, although, a few years following her death, they moved to Nenagh, Charles Ball's hometown.
Unfortunately, I was unable to find a picture of their family home in Iceland, although, their home has since been used to host the Ice House Hotel and Spa which is pictured below.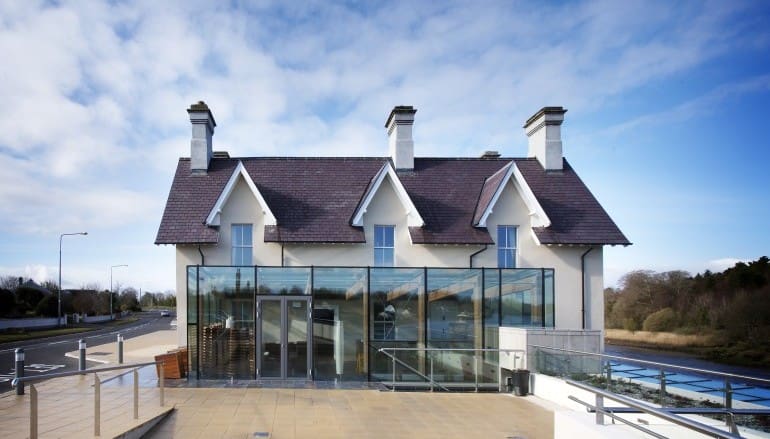 Adult life
Unfortunately, I was unable to find any records of education or school life. Although, according to the 1901 census, Maurice and his brothers and sister were able to read and write but could only speak English.
A few years following the death of Maurice's mother in 1894, the family moved back to 1 Bankplace St. Nenagh, Co. Tippereary.
In 1908, Gerald and Maurice traveled from Liverpool to Eilis Island, New York. They would further venture up to Weyburn, Saskatchewan when they granted land by the British to farm land. The brothers together owned the farm which consisted of work horses, foals, cattle and poultry. Descendants of the Fitzgeralds still have connections to this farm today.
Maurice never married or had any children.
In terms of appearance, Maurice was five foot five inches in height with fair hair and grey eyes.
Princess Particia's Canadian Light Infantry.
The Princess Patricia's Canadian Light Infantry was co-founded by Captain Andrew Hamilton Gault and Lieutenant-Colonel Francis D. Farquhar in 1914. Colonel Farquhar asked Duke of Connaught to name the regiment after his daughter, Princess Patricia of Connaught. She was pleased to accept this honour and thus the Princess Patricia's was established. The name Light Infantry was chosen by Captain Gault.
Maurice Fitzgerald joined the army on the 2nd of May 1917 in Saskatoon, Saskatchewan, nearly a four hour drive from his farm in Weyburn. Maurice enlisted in the army not conscripted like so many others were.
He joined the Princess Patricia's Canadian Light Infantry (Eastern Ontario Regiment) in the 2nd Battalion.
The Princess Patricia's Canadian Light Infantry generally trained in Ottawa and Levis but it is unclear if Maurice trained there.
The PPCLI arrived in Belgium before the battle of Passchendaele.
November 16th 1917 marked the day that Maurice Fitzgerald lost his life in battle. His cause of death was titled 'died of wounds'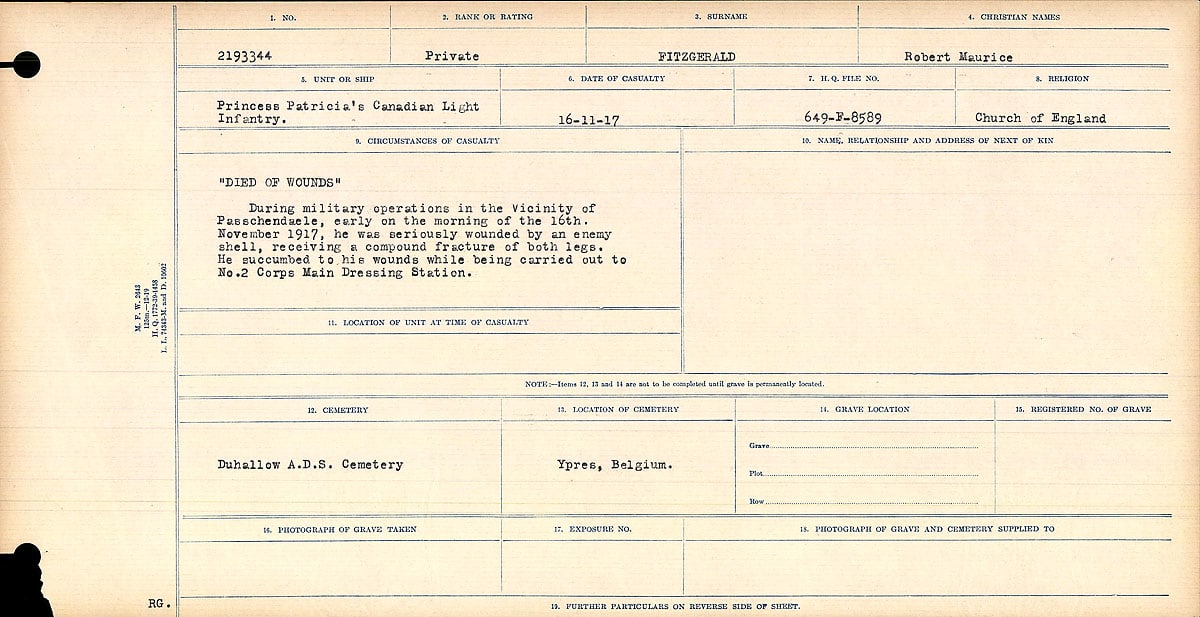 The Battle of Passchendaele.
The battle of Passchendaele, also known as the Third Battle of Ypres began in July 1917. The battle, which was fought between the Allies and the German Empire, was fought on the Western Front until November 1917. Visiting Ypres was very surreal. It was poignant knowing that anywhere within a few kilometers radius of where we were visiting, my soldier Maurice would have been living in the trenches, fighting against the Germans and where he would have taken his final breaths. It was hard to imagine the destruction of the surrounding areas, as now, the area is well restored to a beautiful countryside. Below is a aerial photograph of Passchendaele before and after the deconstruction.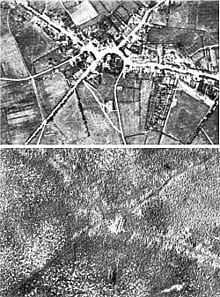 War Records
I was able to find several documents to help bring my story to life and to confirm any information I may have gathered previously. Below are some documents I found on Maurice following his enlistment.
The first document is Maurice's attestation papers. This paper presents material such as Charles Balls' address and occupation and Maurice's date of birth. This record was essential in my search as Maurice's signature is at the bottom which I thought was interesting and which confirmed that he was able to write.
The following document outlines when and where Maurice died. You can see that Maurice died of wounds on November 16th 1917. The writing on this document was difficult to make out, although, the information is still valid.
The next document is Maurice's medical record sheet, which confirms information I have already defined, such as, where he was born and what height he was.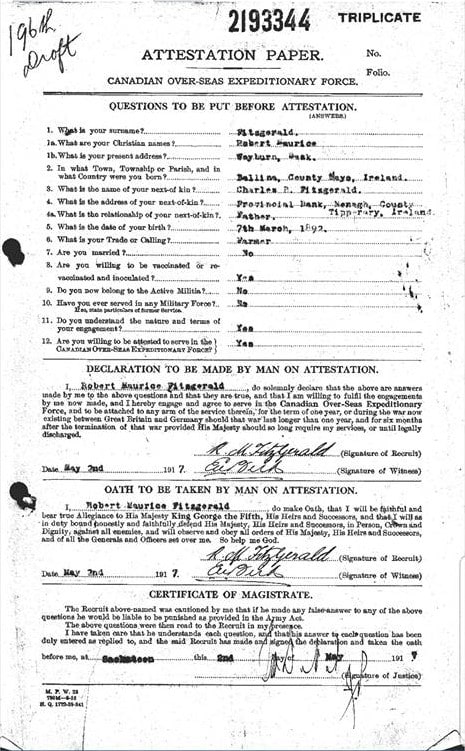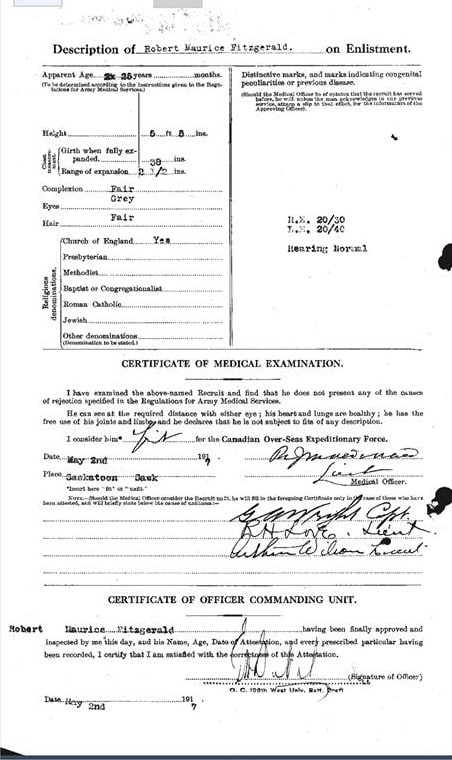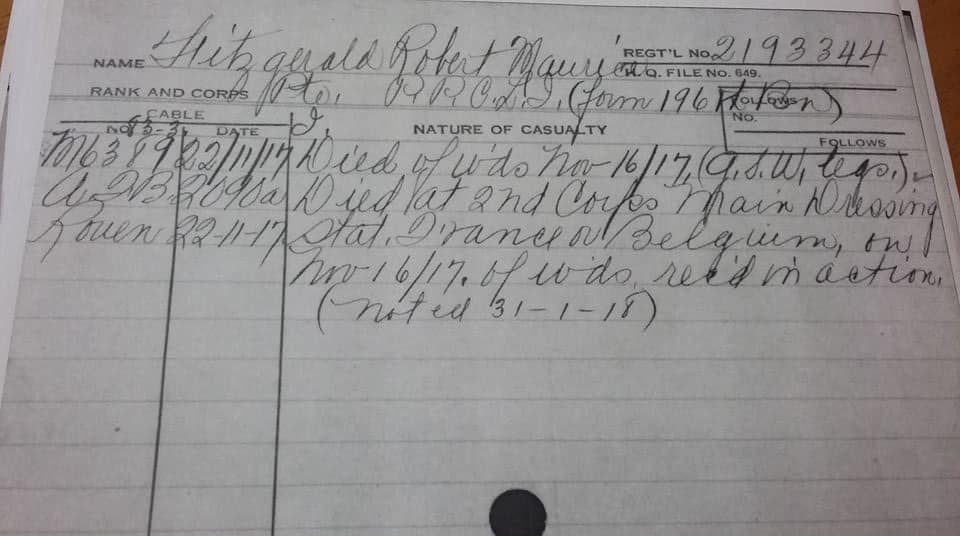 Following Maurice's Death.
When Maurice died at the battle of Passchendaele, a letter was sent home to his next of kin, his father Charles. One can imagine how horrifying it would of been for Charles Ball to receive this letter, knowing his son fought tirelessly in battle, but unfortunately, lost his life. For soldiers fighting in The Great War, it was compulsory, according to The Wills Act 1837 to draw up a will before departure. Maurice's will, which was drawn up when he enlisted for the war, was also received. He distributed his belongings evenly between his siblings and his father. Below, is the letter Charles Ball would have received informing him of his sons death. You can also see Maurice's will which outlines that his real estate is to be distributed evenly between his three brothers and sister.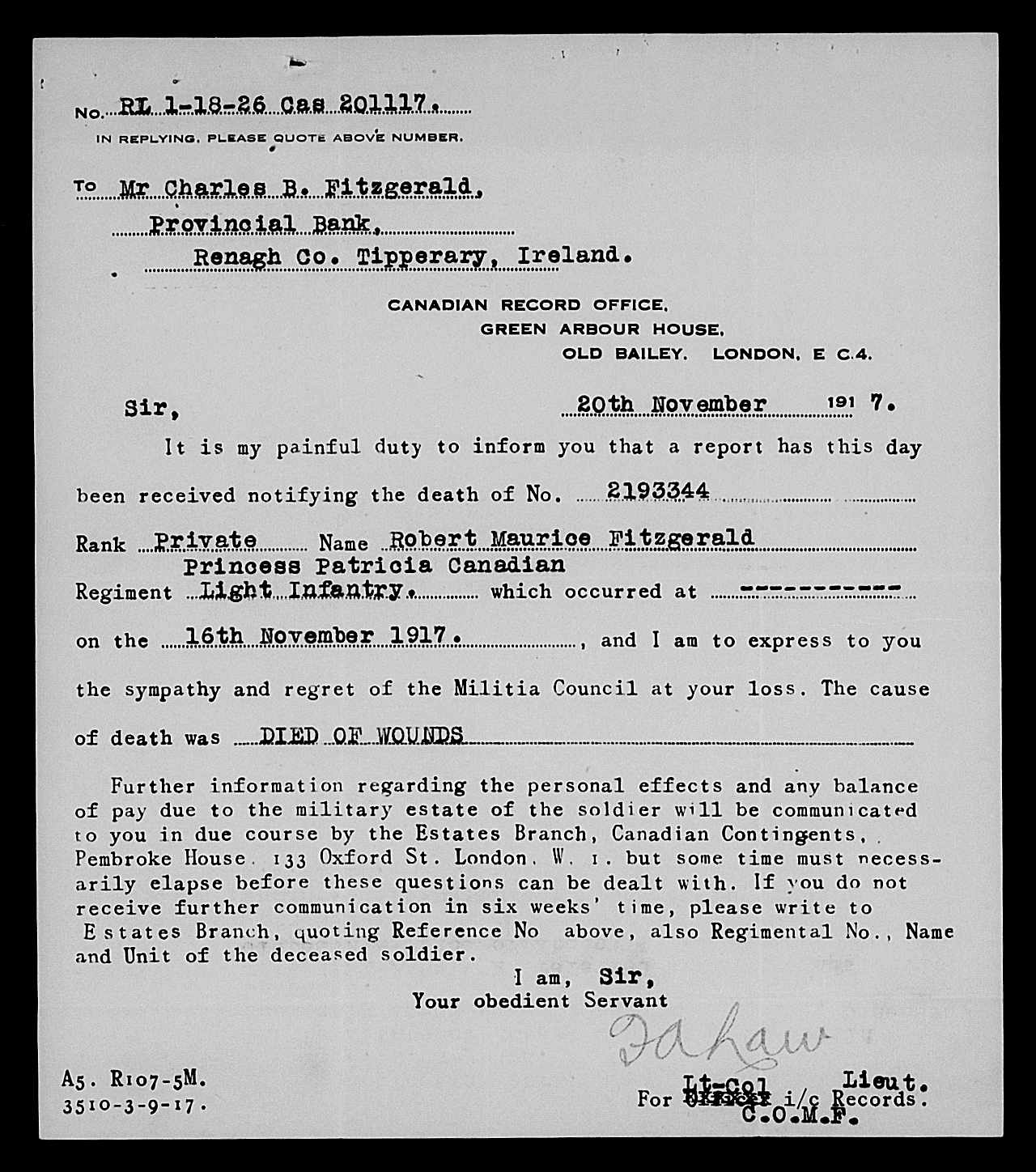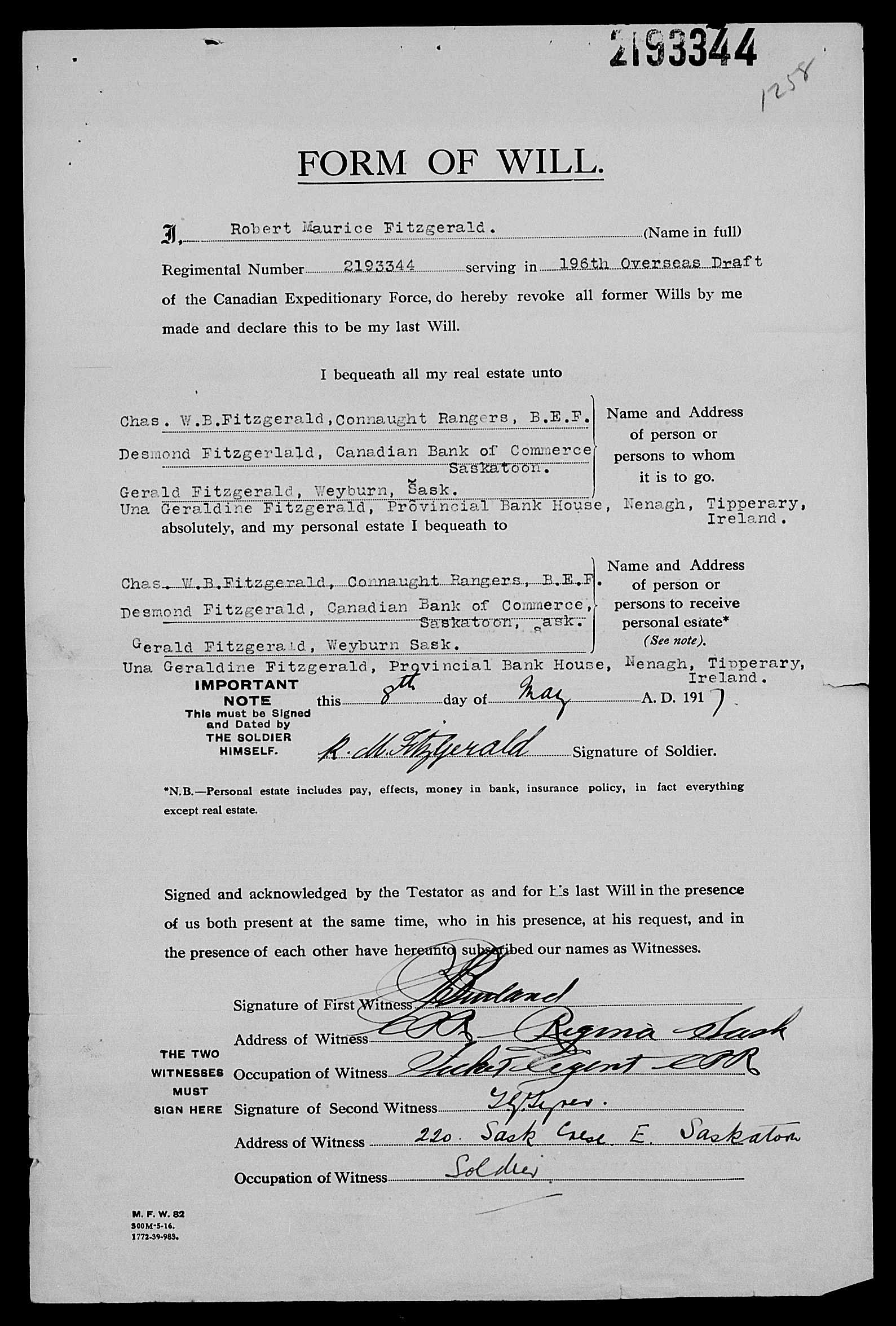 Maurice's Achievements.
Unfortunately, Maurice was not eligible for the 1914-15 star. Although, he was eligible for the Victory Medal, also known as the Inter Allied Victory Medal. Each allied nation would design a victory medal for award to their own nationalities. Fifteen countries have awarded the medal. He was also eligible for the British War Medal, which was awarded officers and men of British and Imperial Forces for service in World War One. Unfortunately, I do not have a photograph of the exact medal that Maurice received, although, the pictures below is what they would have looked like.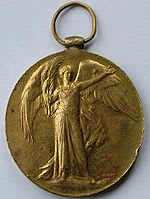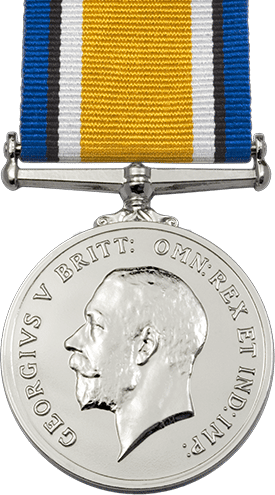 Honouring the fallen.
Duhallow ADS is the final resting place of Maurice Fitzgerald. For me, an Irish soldier, among so many others, buried in Belgium is very poignant. Not alone that, but Maurice Fitzgerald is also honoured in his home town of Ballina at The Great War Remembrance Monument in the Green Park, Bohernasup. The memorial, which was unveiled in 2015 hosts all the names of all the soldiers who fought in World War One from Ballina. I was lucky enough to visit it after meeting PJ Clarke and finding Maurice's name on the east wall near the top. Maurice is also commemorated at Mayo Peace Park in Castlebar, which honours all the soldiers from Mayo who fought in The Great War. The park was opened by President Mary McAleese in 2008. Maurice is remembered on two walls; one that honours soldiers who fought in Canada and the wall that displays all the names of the soldiers. I visited both places during my research and had taken photographs at both locations but unfortunately, due to technical breakdown I was unable to upload them here. Below is a picture of PJ Clarke in Ballina and of the Mayo Peace Park.