Family background & Early life
James McGee was born in the year 1897 in New York, along with his brother Mick and his sister Mary. Sometime between 1897 and 1901 the McGee family moved back to Donegal where James's mother originated. They lived grey two story house which is located in Mullaghduff, between Annagry and Kincasslagh. This is how it stands today.
In the 1901 census the habitants of this house were Hannah (James' granny), his mother Grace, his siblings Mick and Mary, and his three uncles Patrick, Manus and Mick. Grace had a 11 siblings altogether. When I found the McGee family in the 1901 census, it was clear that James' mother Grace was a knitter but I was never able to gather any information on James' father Patrick as he is not mentioned. I think that he may have died sometime between 1901 and 1911 as Grace's marital status changed from married to widowed.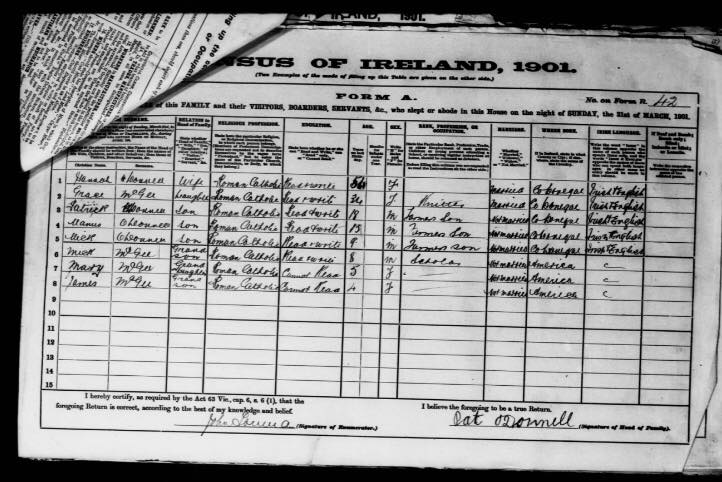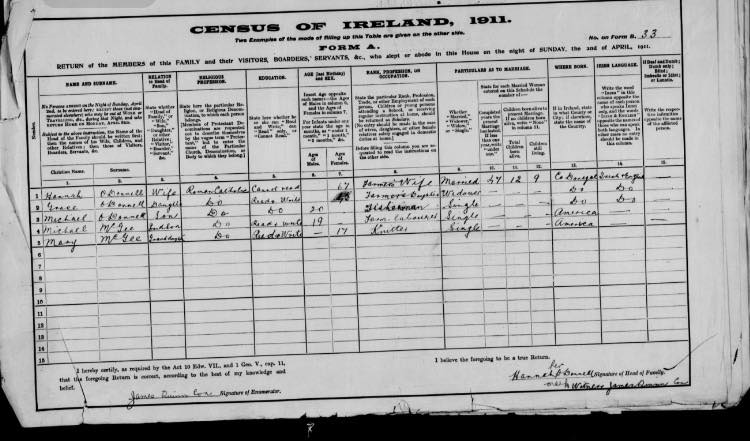 Adult life
James worked on his uncle's farm in Castruse, Newtowncunningham before he joined the army. Castruse is on the border between Donegal and Derry which is near where James enlisted. He joined sometime during the war, I am unsure of the exact date. He became a member of the Irish Guards 1st Battalion along with two uncles and a first cousin.
At least 5 uncles belonging to James also fought in the Great War two of which were in the same regiment as him. James was one of nine men who had died from Mullaghduff, his home place. One story of James' uncle Michael stood out to me. He had died in September 1917, which was the same month and year James fell. I can only imagine the pain James' family must have felt that month loosing both men. A letter that Michael had addressed to his father Paddy 'Johnny' O'Donnell, was found after he passed away and was sent home. It said:
"My dear Father and Mother, A few lines from your youngest son about to go into battle. I do not know what may happen to me. But if it is God's holy will that I shall fall, remember that I will be in Heaven. Only a few days ago I lost my poor comrade. He was killed beside me. I hope, dear father that you will be provided for by my brothers, if God spares them. Dear Father, I am thankful for all you did for me. Goodbye to all my nieces and nephews and cousins, and all my friends in dear old Mullaghduff, goodbye forever dearest Father and Mother, goodbye niece Nora Sharkey. Erin go Bragh. P.S. If any fond comrade should find this, send to this address, and I hope God will reward them."
James' uncle Maurice also fought in WW1 and he was a member of the US army. Below is a picture of James father Paddy.
Military Experience
James was a private in the Irish Gaurds, 1st Battalion. His regiment number was 11612. I assume sometime during the war James was moved to the 3rd Battalion because in the letter he sent home, which I was lucky enough to get pictures of, he addresses himself as 3rd Battalion. The letter is quite old and faded now which makes it hard to read but it was sent to his sister, Mary. It is in the possession of his great niece now.
Although I am unsure when James joined the war, I did some research on the Irish Gaurds to get an idea of what James and his two uncles faced. This regiment remained on the Western front for most of the war and took part in a number of battle such as, The Battle of Mons, The Great Retreat The Battle of the Marne, The Battle of the Aisne, First Battle of Ypres, The Battle of Loos, The Battle of Flers-Courcelette and The Battle of Morval.
Death
James died of wounds on the 10th of September 1917, aged 20. He is buried in the Artillery Wood Cemetery not too far outside of Ypres.
Achievements
James was awarded 3 medals which his great niece has possession of.
The first is the Victory medal which was awarded to soldiers who entered a theater of war. 5,725,000 Victory Medals were issued and the soldier's regiment and number are inscribed around the rim.
The next medal James received was the Memorial Plaque or the Death Penny. It was given to the next-of-kin of all soldiers who lost their life in WW1. The name of the soldier was inscribed on the front.
The third medal given to James was The British War Medal. This was given to soldiers who either entered a theater of war or entered service overseas between 5th August 1914 and 11th November 1918. Around 6.5 million British War Medals were awarded.
This is James' Medal Record Card.