Family background & Early life
Private Thomas Joseph Lennon was born in 1895. He was born at house 10 on Church Street, Corofin, Co. Clare.
Thomas' father was a man named George H. Lennon and was a General Laborer but was unemployed. He was Jamaican, at this time it was very rare to hear of somebody from Africa living in Ireland. From what we can imagine this may have made his life harder when trying to get a job back then due to the fact that he was a different race to the other workers. He was married to a woman who went by the name of Margaret from Boultydoolin in Kildysart, Co. Clare.
Thomas was the middle child of 3 Children in the family. He had an older brother named John Patrick and a younger sister named Emily Agatha. When the 1901 Census was recorded, John was 10 years old, Thomas was 6 years old and Emily was 1 years old. Also at that time the father, George was 48 and mother, Margaret was 44 years old.
He attended Corofin national school. We don't know how long he attended the school for and there is no information to prove whether he went on to a higher level of education after or not.
The family's practiced religion was Roman Catholic, as were most families living in Clare were at the time.
Adult Life
We don't have much information on Thomas' life before he joined the army forces.
We know that he was a General Laborer working in a factory in Kilrush, Co. Clare. As the family got older, they moved to a home in Burton Street, Kilrush.
Due to the fact that Thomas was only 20 years old when he was killed, he unfortunately never had the chance to marry or have children.
Military Experience
Thomas was enlisted into the the British Army in 1907. Thomas trained with many friends in Sarsfield Barracks in County Limerick. After his training, he joined the Connaught Rangers. He trained with the Connaught Rangers at their base camp in Boyke, County Roscommon.
On the 26th of September 1914, Thomas' regiment arrived at the battlefield at the Port of Marseilles. They fought a long battle for 2 hard months and unfortunately on the 12th of November, 1914, Thomas was killed in battle during the Battle of Ypres and was buried in the Rue-de-Bacquerot in Nord-Pas-de-Calais in France.
Thomas requested that if something were to happen him on the battlefield, all his possessions were to be handed to his mother Margaret, of Burton Street, Kilrush.
Records of your Soldier
This is Thomas' victory medal he received in battle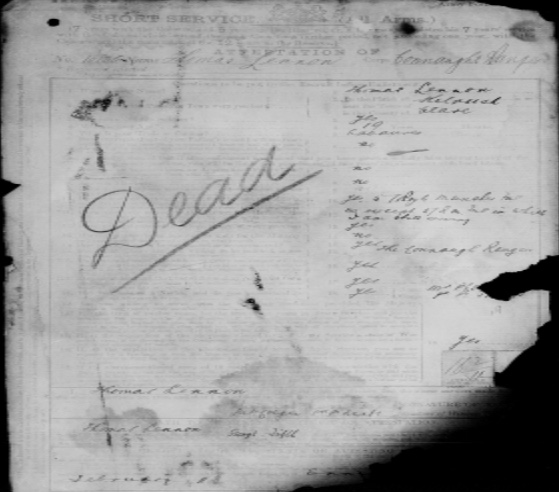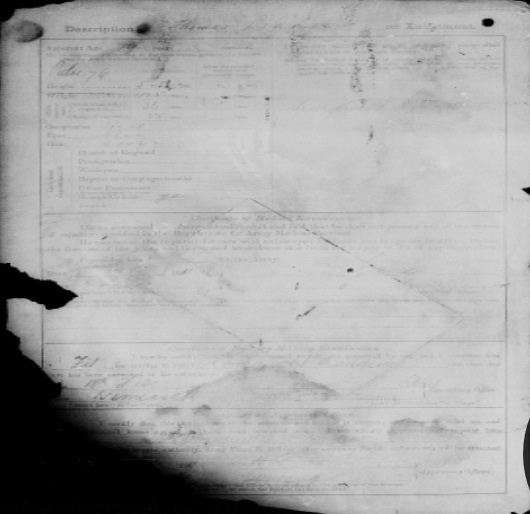 This is Thomas' confirmation of death certificate.