Family background & Early life
Thomas was born on in 1987. He was born in a village on the River Fergus called Claretown (which is now known as Clarecastle), in East Co. Clare.
According to the 1901 census, Thomas lived with his parents, Mary and John, who was an agricultural labourer, his maternal grandparents, Margaret and Michael Kitson and his grand-aunt, Mary Keaney. However, in the 1911 census, Thomas lived in Ballaghafadda East in Clareabbey with his parents, his grandfather who was now a widower, and his siblings. Thomas had a brother called John who was 8 years younger than him. He also had a sister named Mary-Anne who was 10 years younger than him. In 1911, he also had a baby brother called Martin who was 7 months at the time of the census. I didn't find any record of what school Thomas attended but there was a national school in Claretown at the time so it may be possible he attended school there. He was a Roman Catholic which was the most popular religion in that area.
Adult life
Unfortunately, I didn't find any records of Thomas in his Adult Life, aside from his military experience. The only thing I found was that he did have a widow's penny in his name therefore he did marry but I have no record of who or when he did marry.
Military Experience
Thomas joined the Royal Munster Fusiliers. He trained with the Royal Munster Fusiliers in Tralee, Co. Kerry. His regiment arrived at the battlefield of the Somme on the 13th of August 1914. I have not yet found any letters home from Thomas that have survived. Private Thomas Gleeson was killed in action on August 24th 1916, aged 20, at the Somme.
Records of your Soldier
This is a picture of the widow's penny that is in Thomas' name.
Thomas Gleeson in uniform.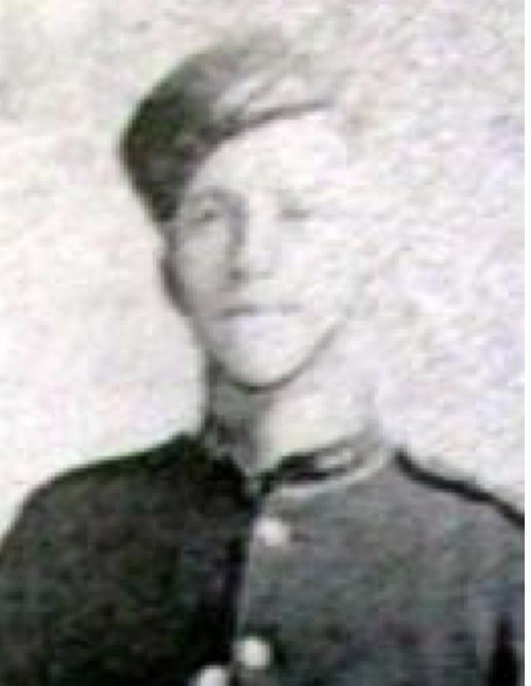 The Thiepval Memorial, France, where Thomas is remembered.