THE SOLDIER IN TWO REGIMENTS
Family background & Early life
Michael Delohery was born in 1880 in Knockerra, Kilrush, Co. Clare. His Parents were Daniel and Margaret Delohery (née O'Neill).
It is believed that Michael grew up in Knockerra, Co. Clare, however he did move to Kilrush at some point.
It has only been possible to confirm that Michael had at least one brother- Thomas,
Michael was a Roman Catholic.
Adult life
Records describe Michael's non-military occupations as a labourer and a groom and a railway depot worker.
Michael worked in Kilrush and Limerick at various times
In his early life Michael lived in Kilrush. He later moved, with his wife Ellen, to Limerick, where he enlisted in the Royal Irish Regiment.
Michael married Ellen Cooney of Chapel St., Kilrush on 5th April 1904
Michael and Ellen had 3 children who lived: Christopher, Mary-Kate and Michael Joseph.
Military Experience
It had appeared that Michael first enlisted in the army on 1st Jan 1898, at the age of 18. It appears Michael's parents were dead by this point because in his Soldiers Small Book Michael nominated his brother Thomas (who worked in Williams Hotel, Kilrush) as his next of kin.
However, records have been found that show that Michael appears to have first enlisted, not with the Royal Irish Regiment but with the Royal Munster Fusiliers a year earlier, at the age of 17.5. He enlisted on 22nd Feb. 1896 in Kilrush. However, only a short few weeks later Michael is listed in the 14th April edition of the Police Gazette as having deserted on 6th April in Limerick.
Interestingly, the document also lists several other members of the Munster Fusilers as having deserted in Limerick on the same date. It is possible Michael did so with these people, for reasons unknown. Only a short few months later, he joined the Royal Irish Regiment.
Records show that Michael enlisted in Kilrush for the Royal Munster Fusiliers and in Limerick for the Royal Irish Regiment.
Michael briefly joined the Munster Fusilers and then joined the Royal Irish Regiment.
Michael's first posting overseas was at the start of the Boer War in South Africa in 1899.
Michael received a number of Clasps for his service in this conflict, including the Wittebergen and Cape Colony clasps.
During this service Michael received gunshot wounds to his back, knee and arm. He was deemed medically unfit for further service, and was discharged from army at Shorncliffe Camp in Kent in May 1901.
Picture or link of medals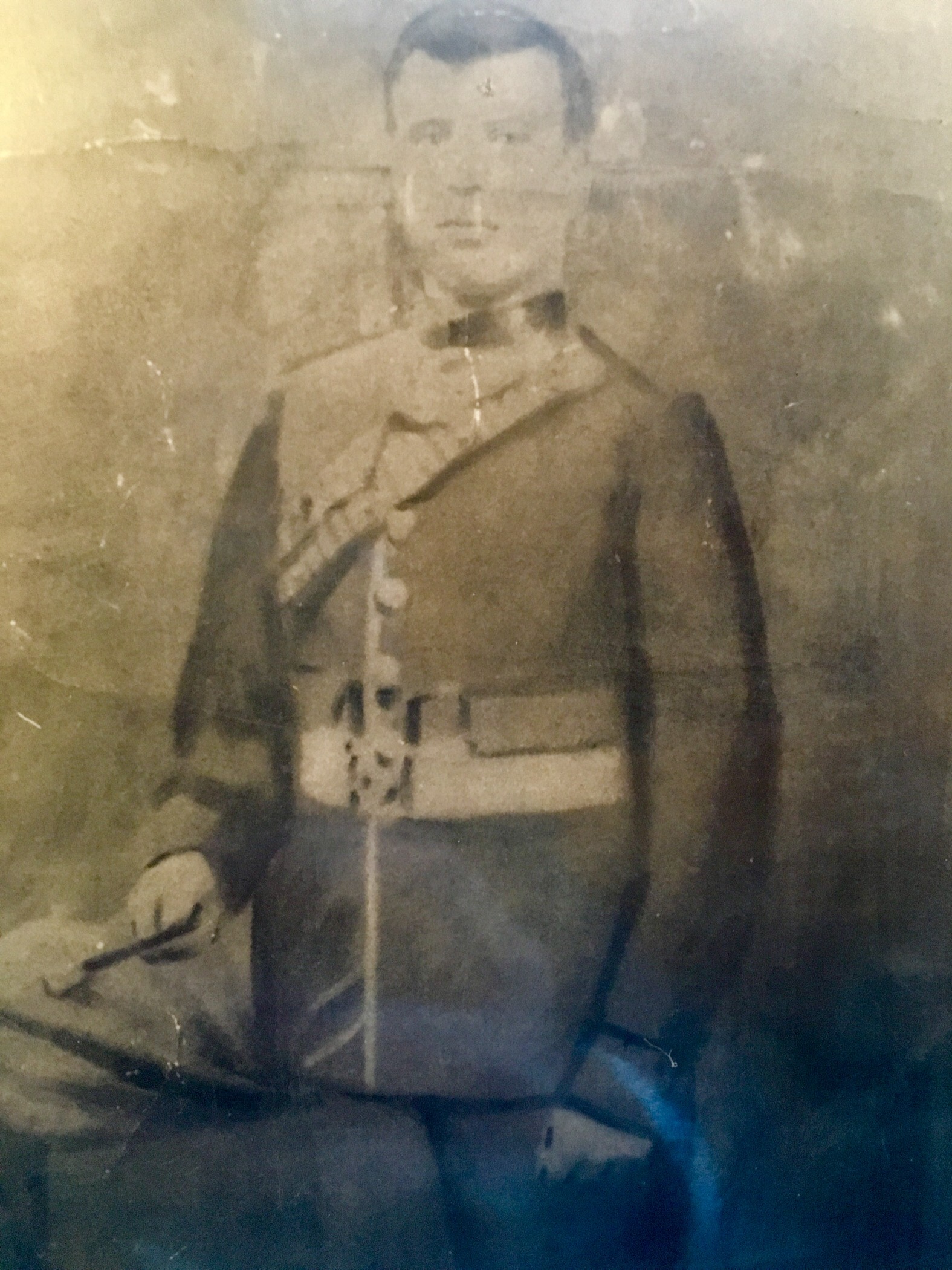 (Michael in uniform)
However, Michael later rejoined the Royal Irish Regiment.
Due to his previous injury he was unfit for active military service. However he was given a position training new recruits.
It was during a training exercise in the Wicklow mountains in the winter of 1916, that Michael contracted pneumonia.
He died on 30th December 1916.
He is buried in Kilrush in the Churchyard, Grace St. Kilrush.
This location is the site of the former Protestant Church in the town. However, the graveyard contains Catholic graves also, as the site was previously the site of the Medieval Church, founded by Monks from Scattery Island.
Michael's daughter, Mary-Kate is also buried in this grave. It is believed that the remains of other children of Michael and Ellen may be also buried there, as a letter exists from Ellen, after Michael's death, saying that the other children are "with their father now".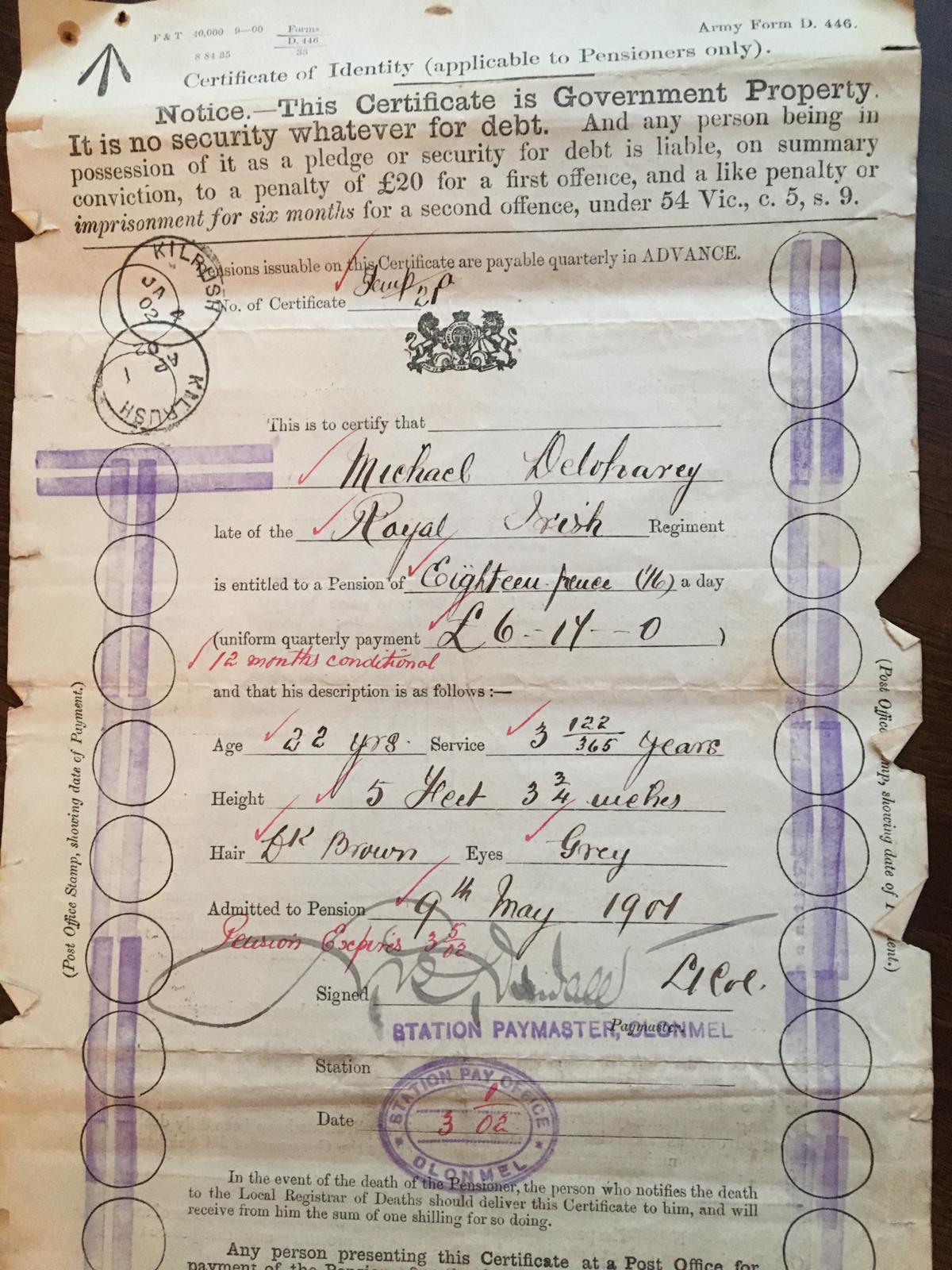 (Confirmation of pension to be paid to Michael, following injury in 2nd Boer War. Notes on the document show that the pension was subject to review every year)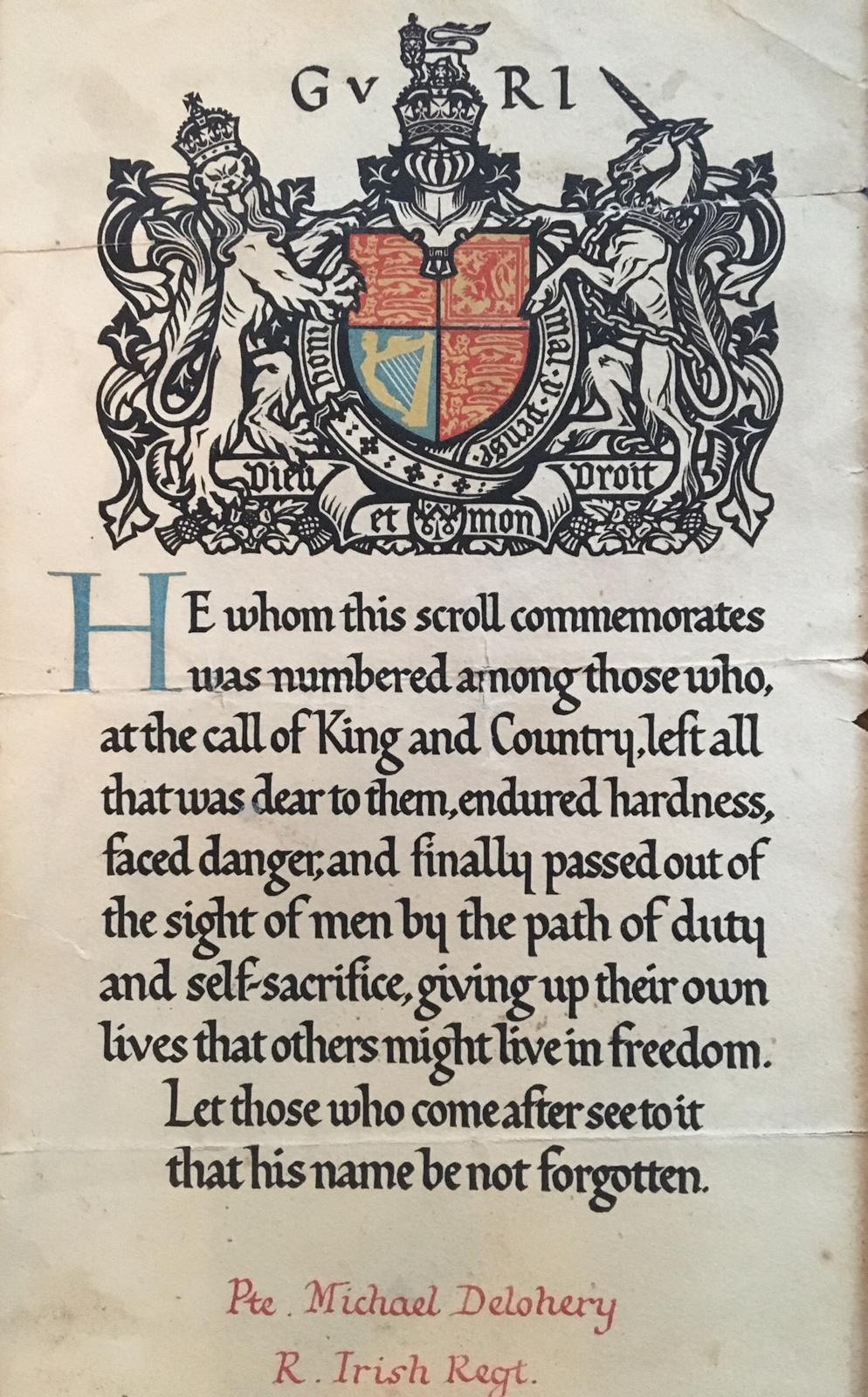 (Scroll received by Michael's widow, following his death in 1916)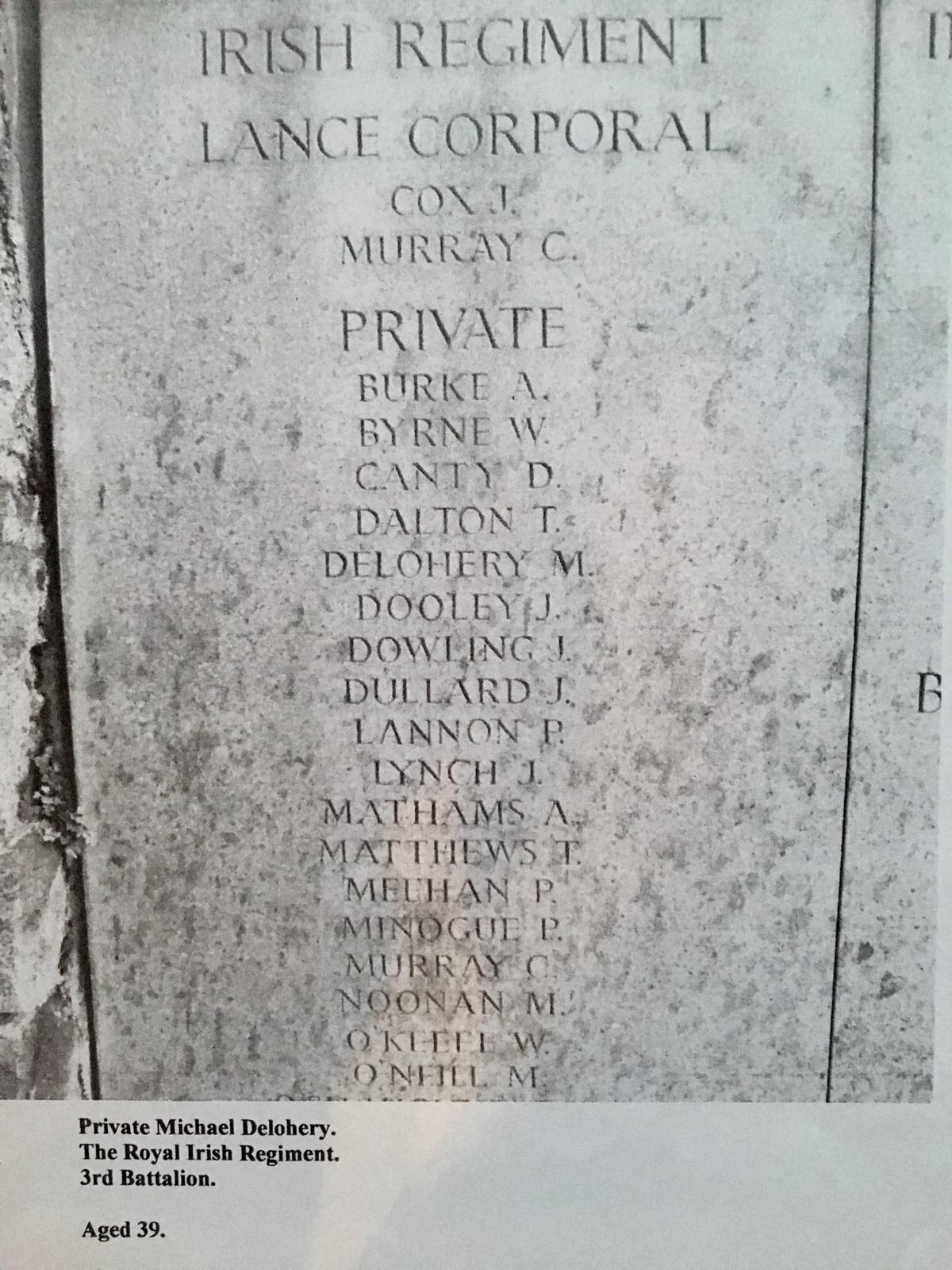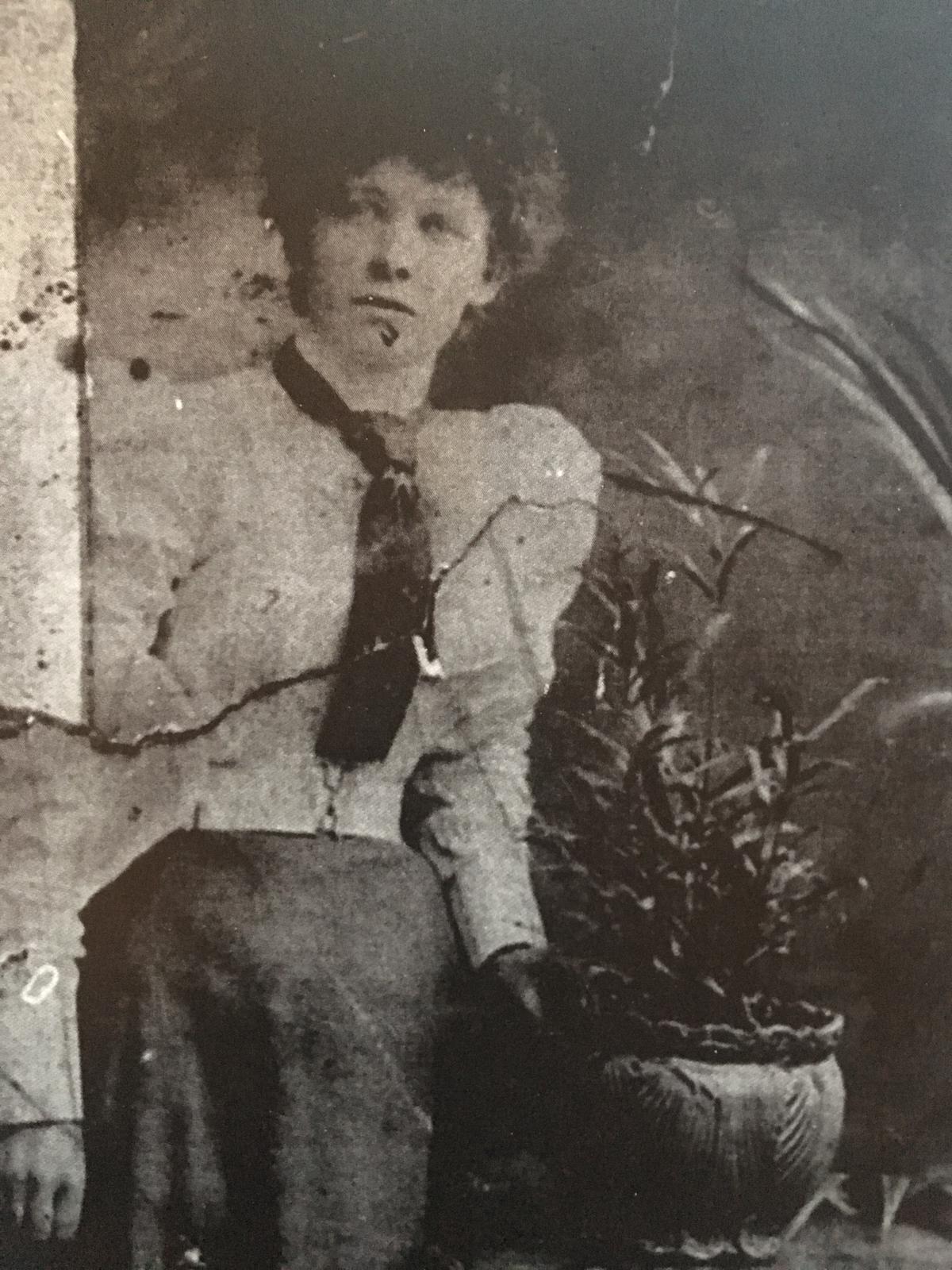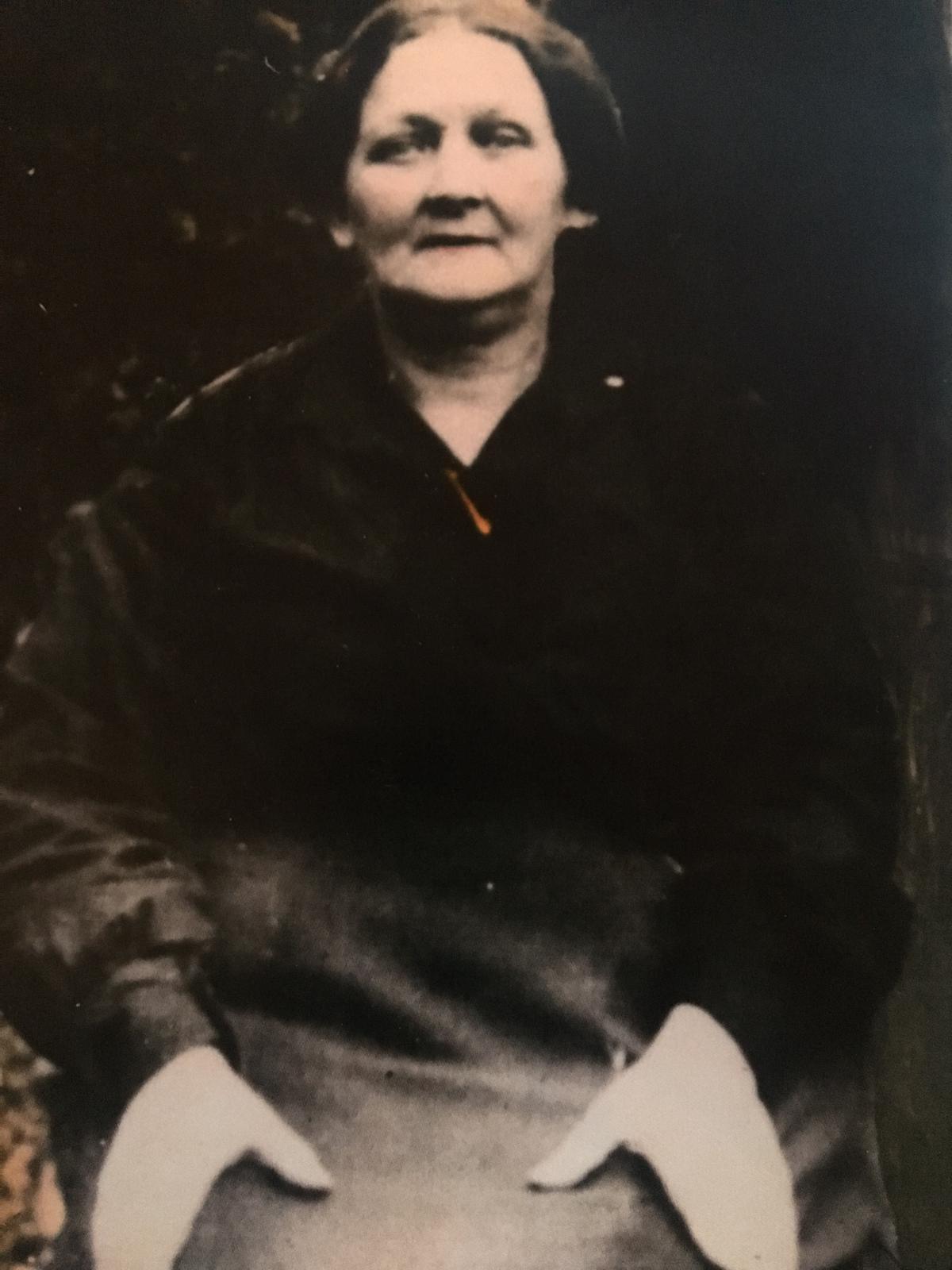 (Photos of Michael's wife, Ellen, as a young, and older, woman)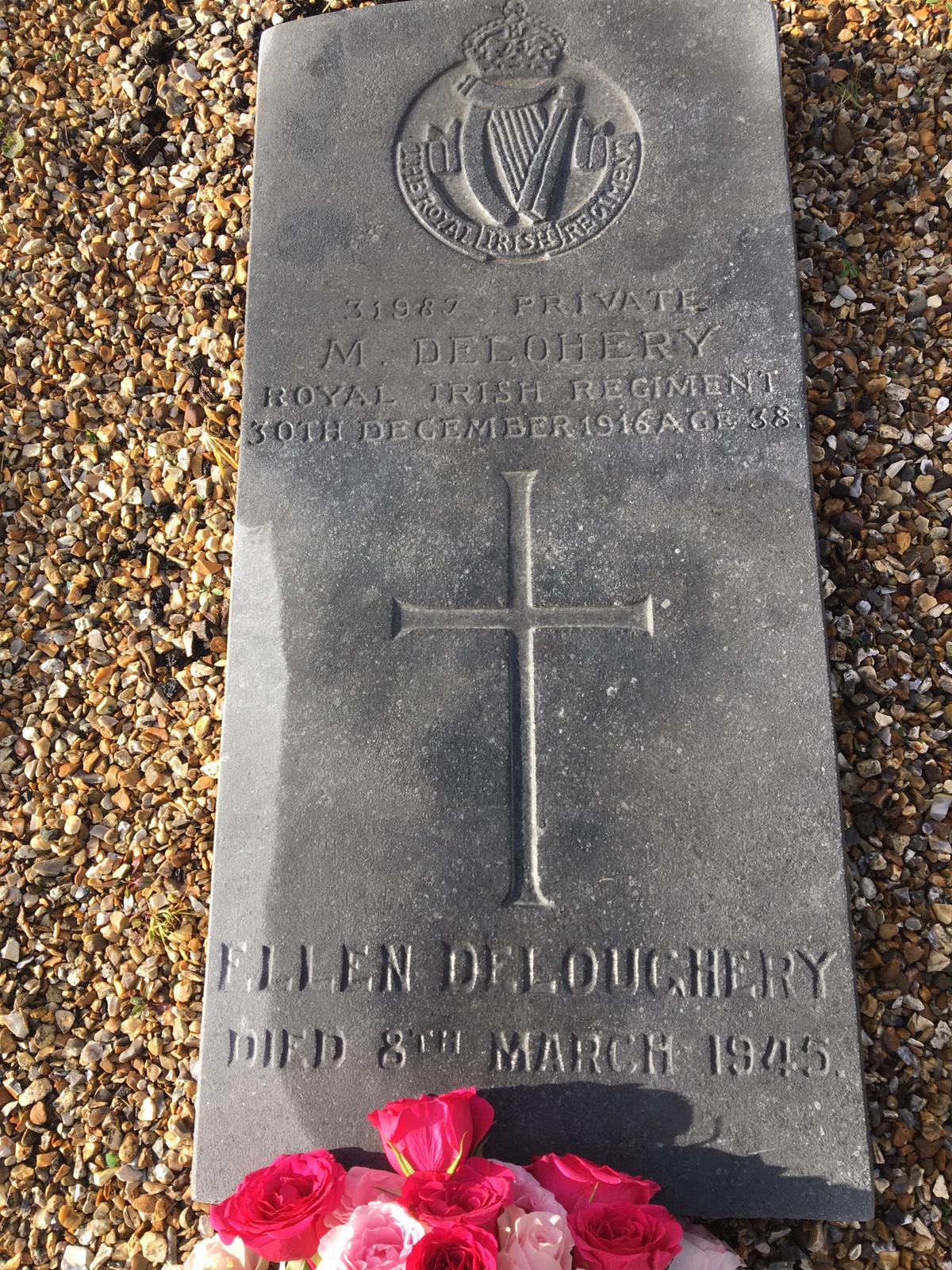 (Michael's military headstone in Church Yard, Kilrush, Co. Clare. His wife's name was added to the headstone when she died in 1945)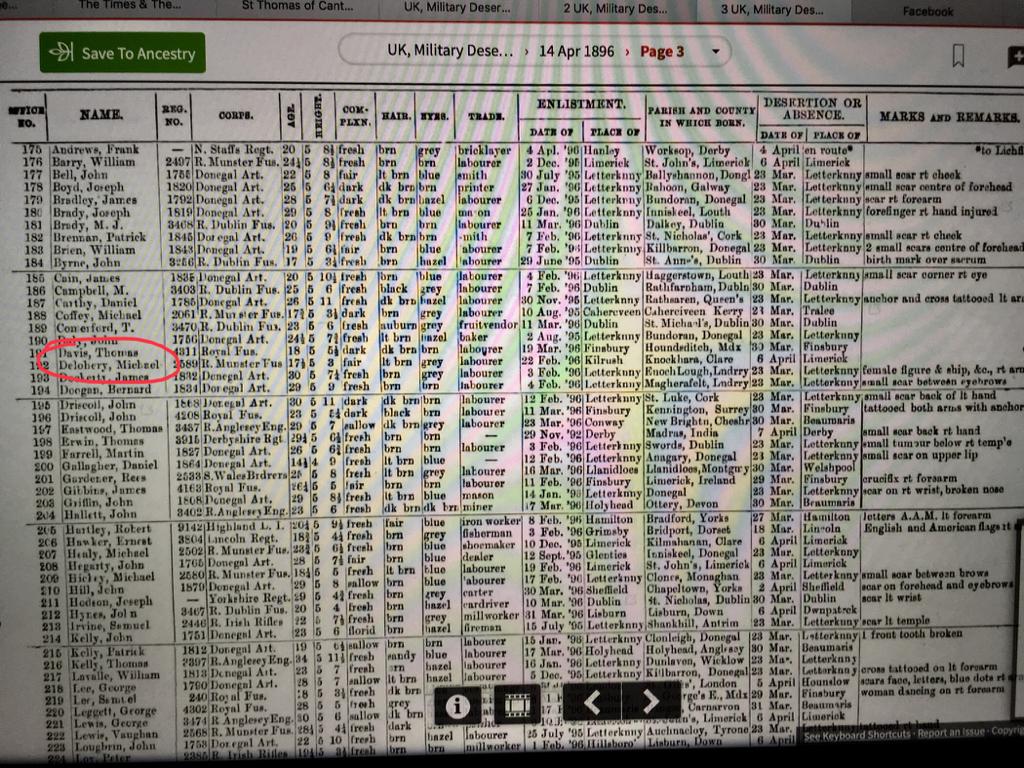 (Screenshot from Police Gazette listing Michael Delohery as a deserter in 1896)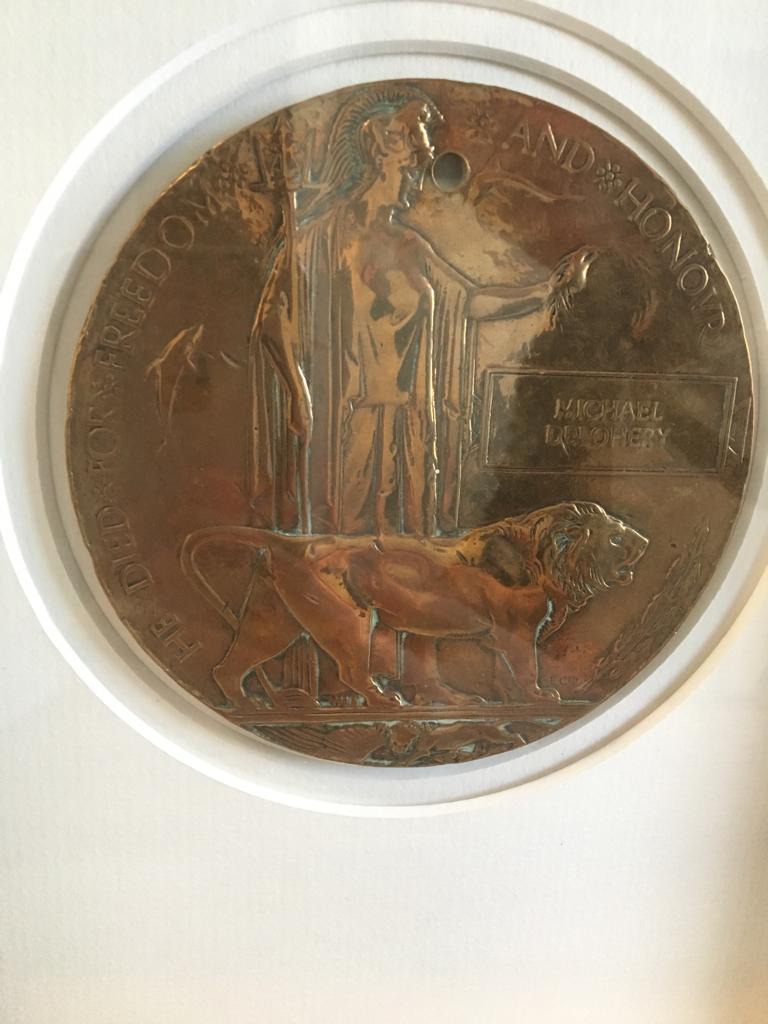 (Memorial "Death Penny" (Widows Penny), issued to Ellen Delohery, following Michael's death in 1916)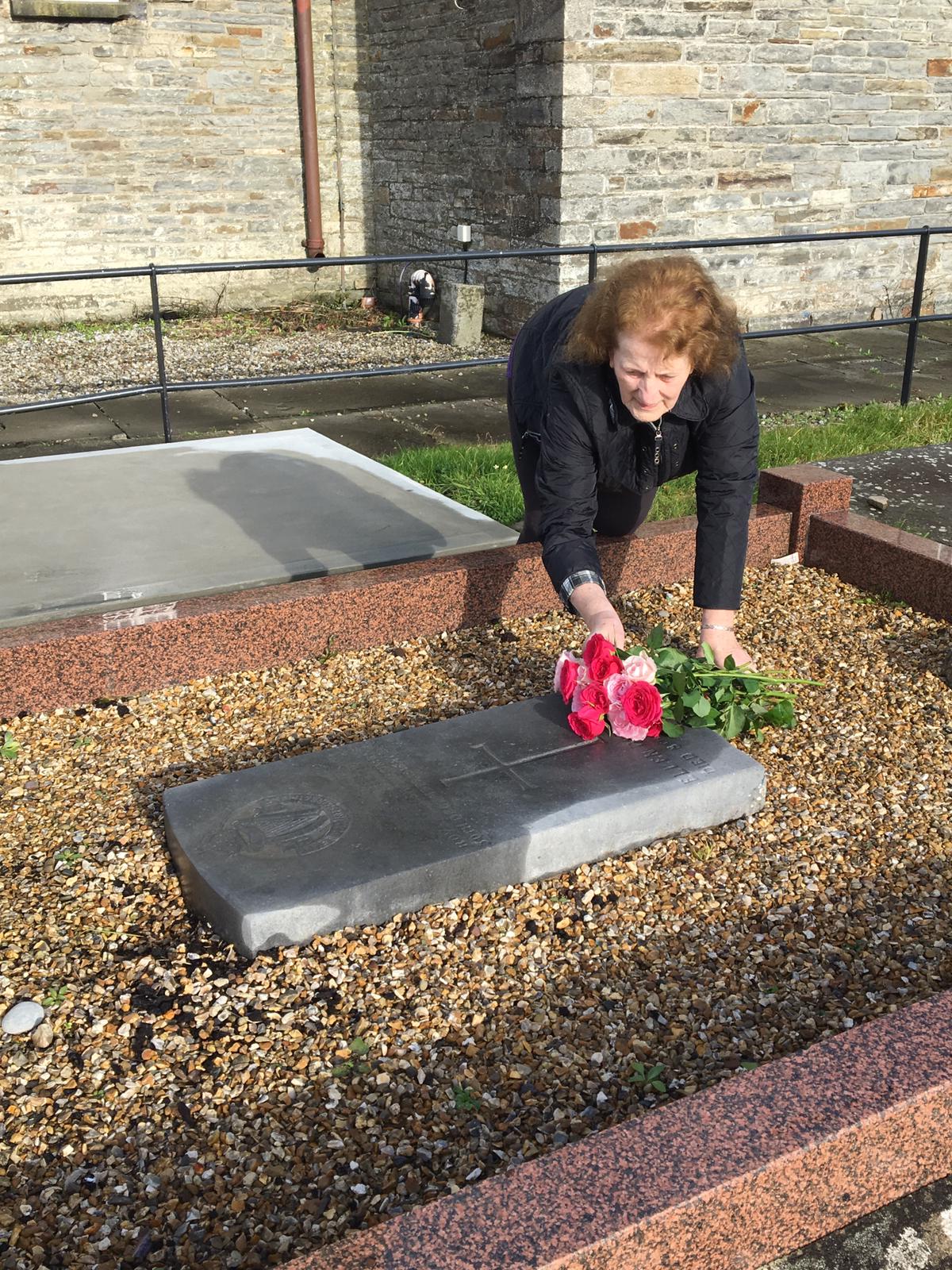 (Michael's Granddaughter, Ann Moloney, lays flowers on Michael's grave in Kilrush, on the 100th Anniversary of the 1918 Armistice- 11th Nov. 2018)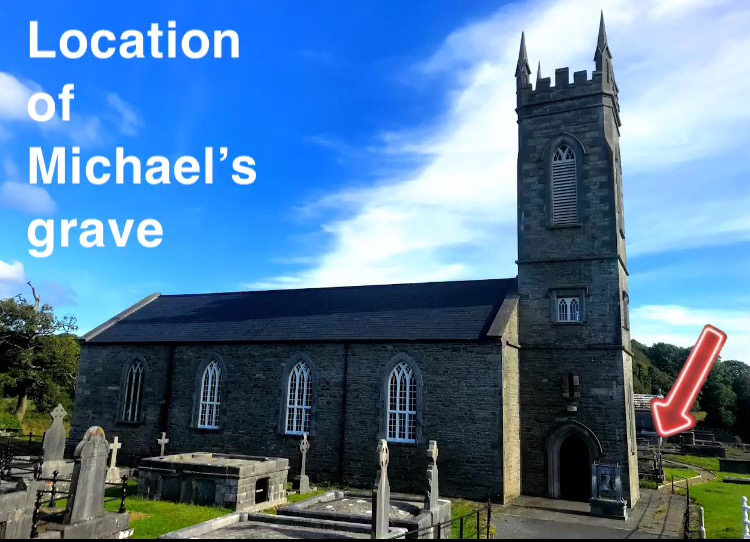 (The location of Michael's grave, beside the former Protestant Church, in the Church Yard, Grace St. Kilrush)